What's the deal with Rooftop Solar? September 16, 2015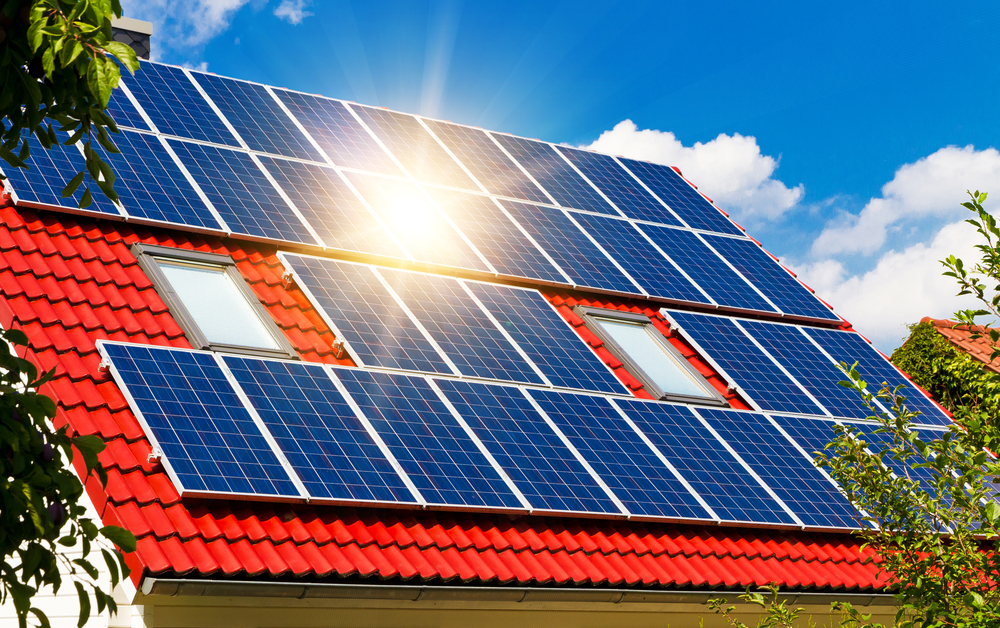 What's the deal with Rooftop Solar?
A year ago or so it started with phone calls. Friendly people asking if you'd like to put solar panels on your roof. "Immediate electricity bill savings!" they say. "No cost to you!" Then NV Energy takes out full page newspaper ads deriding those awful rooftop solar homeowners. Then a guy in a TV ad says if Carson City doesn't do something and soon, thousands are out of a job and you won't be able to get solar. Now you're asking yourself two questions: "What is the deal with rooftop solar?" and "Is this something I should be doing?"
Let's begin with what it is.
Solar panels are aluminum frames with silicon cells covered by a sheet of glass. Bolt a bunch of them on the roof and it becomes an "array". Run a wire from the array into a box called an "inverter" mounted on the wall inside the garage. Run another wire from the inverter to the outside of the house near the existing electric meter. The array converts sunlight into DC power, like what's in a battery. The inverter converts the DC power in to AC power like what comes out of the plugs in the wall. Then NV Energy slaps a second electric meter on the wall outside next to the one that's there. One meter for power in, one meter for power out. Now flip a switch, and the magic happens. With no moving parts, and nothing consumed, this rooftop solar array starts making power. And it will not stop making power, dawn to dusk, unless switched off.
Now here's the deal.
The array makes power during the day when you are mostly away at work, and makes almost none when you are mostly home at night. It generally makes more power than you need in the spring and fall, but less than you consume in summer and winter. So you still have to stay connected to the NV Energy grid to maintain steady power 24/7. This is where the "Net Metering" program comes in to play, which keeps track of all the power you generate. If you make more than you need, the extra power becomes a "credit", in the sense that it is saved for later. If you consume more than you make, the credit gets used up until gone and then you pay for delivered power just like everybody else. If you continually make more than you consume, the credit simply builds-there is no compensation for the extra energy.
The incentives.
The historical disadvantage to rooftop solar in Nevada has been cost. NV Energy rates were so cheap that it just didn't pencil out to install an array. Nevada lawmakers sought to stimulate rooftop solar by setting up an incentive program where, in exchange for a partial rebate on their rooftop solar systems, Nevada homeowners would forever assign their Portfolio Energy Credits (PECs) to NV Energy. The program was set up with a high rebate at the outset that diminishes over time. It was and continues to be successful, and for several years solar panel prices have been steadily falling, while electricity rates have slowly ticked up. In addition, the federal government offers a tax credit for solar installations.
The trigger event.
About a year or so ago, a tipping point was reached where it became a good investment for third party to finance the installation of rooftop solar arrays, in exchange for charging a lower fee than the residential rate for the power they produce. This triggered the lease boom, and all those helpful telephone calls. The result is an explosion in solar installations, and a real worry that the rooftop solar installation cap of 3% of the total peak power demand would be reached in months versus the previous trajectory that put it years away. This phenomenon (possible along with Mid American's acquisition) has soured NV Energy's attitude toward rooftop solar, as evident by recent full page ads in the Las Vegas Review Journal. More solar panels on rooftops equates to less profit for NV Energy shareholders.
The controversy.
NV Energy would have us believe that rooftop solar homeowners get a seven cent per KWh "subsidy" through Net Metering, because the company is forced to "buy" power from homeowners at thirteen cents (which is the value they get when the "sell" it back), when NV Energy could generate its own power from coal or natural gas at six cents. Solar advocates would say that rooftop solar feeds power to the grid during peak times when NV Energy charges commercial accounts the highest rate for power (Time of Use pricing), and then benefits from charging rooftop solar homeowners the standard residential rate at night as opposed to the low Time of Use rate for off-peak. Additionally, NV Energy favors keeping the 3% cap in place such that when reached, Net Metering would cease for new solar installations. Without Net Metering, rooftop solar again doesn't pencil out, thus prompting the TV ads about lost jobs and opportunity.
The Legislature
Lifting the 3% cap became a hot topic in the recent 2015 Legislative session. Bills were written. Testimony was heard. Amendments were proposed. Lobbyists furiously lobbied. The Governor weighed in with a decisive neutral stance. At the end, Senate Bill 374, overwhelming passed by both chambers in the final days, punts the whole mess to the Public Utilities Commission of Nevada (PUCN).
Should I get a rooftop solar now?
If you've been considering rooftop solar, now is probably a good time to act. The cap has not yet been reached, so the old rules still apply. No one knows what the PUCN will decide in the future. Also, the incentives continue to decrease. Currently, in Nevada rebate for solar is 24.5 cents per watt installed but, in the in next iteration, it drops to 14.75 cents. The 30% federal tax credit is set to expire at the end of 2016, and it is unclear how or if it will be renewed. Panel prices have been dropping for years but, at a certain point, just like with other consumer electronics, a plateau will be reached where the price will drop no further. Also, there is no real risk to rooftop solar. The technology is proven and standard warranties are decades-long. And with so many sunny days, Nevada is a perfect place for it.
Lease versus purchase.
There are advantages and disadvantages to leasing or purchasing a rooftop solar installation, depending on your financial position and your future home plans. If you are cash-poor, and have no or little equity in your home, and your credit stinks, a 20-year lease is a great option. No money down, and the savings are immediate and ongoing. Leasing also makes sense if you expect to move in less than seven years. The downside is that the lease is an encumbrance on the equipment attached to the home. This is a liability in that if you sell within the 20 years, you will have to convince the new buyer to assume the lease, otherwise you have to pay for the equipment out of the proceeds from the sale. Another downside is that the savings are far less than if you owned the panels, because you are still paying for power but, at a reduced rate. The leasing company is making money on the difference. Also, there is no tax credit for you. The 30% federal tax credit plus any other incentive goes to the leasing company.
If you have twenty grand or so on hand and plan to stay in your home for seven or more years, purchase is the answer. Even if you don't have the cash but have equity, a loan to pay for the install still makes financial sense if you plan to stay in the home. All power generated after the return on the initial investments is pure savings, and when it comes time to sell your home, your rooftop solar is an asset that adds tangible value. In addition, potential buyers debt-to-income ratio. Solar purchaser also enjoy the federal tax credit, and possibly the state subsidy. Or forego the subsidy and retain the PEC's, which is a commodity that can be sold in various markets.
As with any big transaction, make sure you read and understand the details of the contract.
By Mark Leon
Mountain's Edge Resident and Board of Directors Member